These small indoor bounce houses are perfect for your little kids ages 1-8 years old! The little ones seem to always get pushed around a lot in the giant inflatables while jumping with children much bigger than them. Or even teenagers! Nope! That's dangerous! Often the little ones leave the bouncer crying and not wanting to go back in. Rocklin Bounce House Rentals does not want that!

Our goal and job is to make birthday parties a lasting positive memory for your loved ones! Not a fearful haunted house that will prevent them from ever going back into one! These small indoor bouncers are PERFECT for your little ones because they fit inside a bedroom or a living room, they stay away from the cold or rain outside, and only allow a certain amount of kids inside at once! Meaning that the small kiddos are less likely to be pushed around by each other! These bouncey houses are most often rented with a larger bounce house. Let the bigger kids, teenagers, and adults have fun in the giant inflatabels! We can set this little bounce house up separately nearby for the tiny babies and children to play undisturbed and safely!

Rent one of our small indoor inflatables for your babies and small kiddos to have fun during the whole party! They're super safe and affordable. With bouncing and sliding features, the birthday kiddo with his/her friends will be busy the whole time! Your peace of mind is also guarenteed knowing that the little ones have their own place to play and bounce!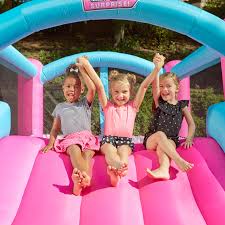 SMALLER INFLATABLES FOR THE WIN!
---
Smaller inflatables are getting very popular right now! They are the best choice for when it is ugly outside! Meaning super windy, or rainy, or cold! Don't let the weather hold you back from giving your loved one the party they deserve! No matter the situation, these little small bounce houses are perfect for you! Some people simply don't have the space in their yard for a huge giant inflatable! Or they have to call off their party often during colder months, Nov-Feb, because of weather conditions. Not fun! Here at Rocklin Bounce House Rentals, we believe in delivering fun, smiles, and memories that last a lifetime... all the time! No matter the size of your yard or the weather conditions outside. Whether it's a birthday party, baby shower, bridal shower, back-to-school event, etc.

Rocklin Boune House Rentals provides you with little bouncey houses that fit inside a bedroom or living room! These bounce houses are safe and friendly to kids, not to mention they absolutely love them! They're a great babysitter, fun, and exciting! Kids never forget that one time they got to play on a bounce house! In fact, event adults remember that one birthday party when they turned 7, and their parents rented a bounce house! These inflatables are excellent gifts for smaller kiddos. They don't let anything hold them back because they can fit anywhere and they are fun all day!

Perfect for smaller kids or babies. We don't want them getting pushed around by the bigger kids! Rent one of these small bounce houses that come with a slide today! Super fun and affordable, keeping your smaller kiddos warm, busy, and safe during the whole party or event. They'll never forget this exciting memory!
Why Is Rocklin Bounce House Rentals the Best Choice?
We're The Only Ones That Offer Indoor Bouncers
Owned and Operated by Family and Friends
Cleaned and Sanitized Every Time
We Build Relationships With Our Customers
Why Are Parties Better With Inflatables?
Great Babysitter
Kids LOVE Bounce Houses
Very Safe and "Fall Down Friendly"
A Lasting Memory