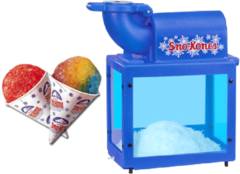 Snow Cone Machine
This cool, refreshing, treat is an absolute favorite, and perfect for any event! It comes with 2 delicious flavors, 50 cones, and an ice scooper! 2-3 bags of ice are needed but not included in the rental. Book now to keep your guests cool in the summer heat! *Please provide your own electricity, or rent a generator from us for power.*

Snow Cone -
1. Plug machine into designated outlet
2. Lift lid handle to reveal the ice barrel
3. Scoop/Pour desired amount of ice into the barrel
4. Press ice down with lid handle simultaneously while holding down the black motor switch
5. Once complete- Use scoop/ladle to serve into cones
6. Be creative with the syrups and ENJOY!